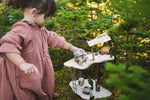 We love toys that grow and evolve with your child. Our Fairy House Kit engages children from tiny tots to pre-teens on multiple levels. My 11 year old and I had a wonderful time putting together the sturdy tree house, and building a tiny bed, dining set, even a fairy sized sink and toilet, and a "shell phone" (ha!). 
Once the pieces were all put together, our littlest two (ages 3 and 5) have returned to it again and again, adding their own bits of nature that they bring to life through their imaginations: pine cone babies! Acorn pets! Mossy blankets and stone suppers! 
Given the ephemeral nature of the "furniture," it doesn't always last long, especially with little fingers at play. Moss crumbles, twigs snap, but this is good practice in gentleness and the "nowness" of Mother Nature. Seasons change and evolve and this wonderful kit can change and evolve right along with them! Decorate your fairies' home with fiery, orange leaves in the fall; when they crumble, sweep them away and build a cozy, lichen bed and stack some twigs as firewood for the winter. Appreciate what each season holds and look forward to what is coming!
Luckily, the structure itself is quite sturdy. The platforms are attached to solid, branch legs with hidden screws and will hold up to many seasons of play. We think this is a wonderful kit for a family to enjoy together. It could even make a special centerpiece to a seasonal nature table, a place to incorporate new, natural elements each month.