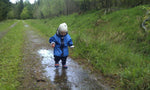 In New England we have what is affectionately known as "mud season," that late-winter/early-spring time of year when snow is melting, rain is falling and mud is everywhere! It can be tempting to skip those fleeting weeks and stay inside, but here are five easy ways to get outside and love it!
Create a mud kitchen! This could be as elaborate as you like or as simple as donating an old pot and some spoons to your child for outdoor use. You will be rewarded with hours of imaginative play and happy children!
Use the right gear! We swear by rain suits for our little ones. Investing in some sturdy rain boots and protective outer gear makes outdoor play much less daunting on wet and muddy days. We love MK Nordika for durability and comfort.  
Make animal tracks in the mud! If it's going to be muddy, you might as well embrace it! Kids love to use stones to press "paw prints" into the muddy ground. 
Find the first signs of new growth! In our neck of the woods it's generally the soft, fuzzy tips of pussy willows that herald the arrival of mud, and spring and song birds. We love to go for a short hike to gather them. You can also trim branches and bring them inside where it's warm. Place them in water and they will bloom much earlier than the outdoor trees and bushes, bringing you an early dose of springtime green!
Go puddle hunting! Toss that mud gear on your little one and don't forget your own rain boots! Children will be delighted to seek out and jump into puddles along with their beloved grown ups. Don't let your kids have all the fun with mud season! Get out there and splash in those puddles too!