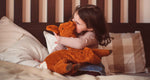 Why Warming and Cooling Pillows?
Warming and cooling pillows can be highly beneficial for children who are either sick or experiencing fear at night. When a child is dealing with a fever or feels excessively warm, a cooling pillow offers relief by maintaining a cool surface for their head. Conversely, if they are feeling chilled or in need of additional warmth, a warming pillow provides the desired comfort, creating a sense of security.
Our Senger warming cuddle animals significantly improve the bedtime experience for children, particularly when they are not in optimal health. By ensuring a more comfortable sleep, these pillows not only help children rest better during the night, but also offer peace of mind to concerned parents.
1. Warming and Cooling "Cuddly" Stuffed Animals by Senger
My wife grew-up on the central coast of California where it can get nippy at night. She learned quickly the value of a warm bag of cherry pits, flaxseeds or grapeseeds. Her handsewn bag was nothing fancy, and certainly one can simply fill a simple cloth bag, and sew it up and voila, you have a warming pillow.
For those that want to combine the love of a stuffed animal, with the comfort of a warm bag on cool nights (or cool bag on warm nights), the cuddly animals from Senger in Germany are just the thing.
They combine adorable style, European quality workmanship, and just the right filling to keep you or your loved one warm and secure.
2. The Large Senger Cuddle
These animals are lovingly designed and sewn in Germany.  The stitching and craftsmanship are impeccable. Each animal is made with organic cotton and filled with wool (plus the seeds for warming).
The Senger Cuddly Warming Animals come in two sizes. The large size can be quite large (see the little girl with the drake!). Actual dimensions for the large cuddle animal can vary, but they typically run between 24-32".
Each Senger Cuddle Animal includes a removable inner bag filled with spelt.  This bag can be heated in the oven and will retain the heat nicely. It is then replaced into the animal and zipped up for convenience.
www.blueottertoys.com​​
The Small Senger Cuddle
The small Senger Cuddle Animals are typically around 12". They are also made with organic cotton and filled with pure wool.
They also have a zipper that reveals a pouch, but they are available in cherry stones or grapeseeds.
The cherry stones and grapeseeds act similarly to each other. Both can be warmed in the oven or cooled in the freezer.
www.senger-naturwelt.de​​
A Little About Senger
A little side-note about the founders of Senger.
We first met Volker Senger and his wife Sabine in Germany, 25 years ago and have become friends even though for many years our business wasn't situated to sell their animals. Finally, about 8 years ago we began selling them and have enjoyed providing such a quality and beautiful product to our customers.
We think that whether you try the Senger "cuddly" warming animals, or the more traditional "floppy" animals, you will be very pleased.
Watch for our upcoming blog post where we will introduce you to our friends, Volker and Sabine Senger.