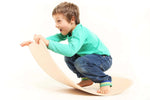 Meet Tic Toys and the team that brought them to life!
TicToys is a small team of creative individuals who initially created their first product for themselves, not for children! Tony Ramenda, one of Tic Toys' founders, back in his rock bands days, was gifted a simple, wooden, ball and cup toy in exchange for a CD. Back at his apartment, the toy was a hit with his roommates. Matthias found himself playing with the toy instead of writing his bachelor thesis! Matthias and Tony began tweaking the toy and developed their own prototype, called the Ticayo, which soon became a party favorite among their friends! They began creating more, to give away as gifts. It was so popular and they enjoyed the process so much, that they eventually decided to create their own toy company!  
I exchanged emails with Matthias and asked him for a "behind-the-scenes" glimpse into what makes TicToys tick!
Matthias explained that they draw inspiration from classic, historical skill toys, "dusting them off and making them new." They are particularly drawn to toys that "encourage the whole family to move and play creatively." It's particularly important to both Tony and Matthias that, in addition to producing the highest quality products, they "do no harm" during the production process. Everything is ecologically and fair trade produced, using certified, local wood and non-toxic materials, all produced right there in Leipzig, Germany.
When I asked Mathias to describe their "typical customer," he explained that while people who enjoy TicToys are often the same people who care about the environment and the healthy development of their children, that it is not just parents shopping for their products! "TicToys are for everybody!" He asserted that their products are designed to transcend age, gender and ability, and are able to be enjoyed by every member of the family!
I asked Matthias what he would order, if we went out to lunch, and what we might talk about. He said, "I would surely order vegan or at least vegetarian food. I wouldn't drive, but would rather ride my bicycle (or unicycle!). We could chat about Greta Thunberg and the Fridays for Future movement. For me the young generation is a great source of inspiration for how to actively protect our planet." Incidentally, the unicycle was also the one thing he said he would grab from his house in a fire, after pets and loved ones, of course ;) 
I hope you've enjoyed getting to know the fun-loving team behind TicToys! You can explore all our TicToys rocker boards on our website!